Ransom Wilson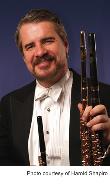 Ransom Wilson hails from Tuscaloosa, Alabama, and was educated at the North Carolina School of the Arts and The Juilliard School. For post-graduate work, he was an Atlantique Foundation scholar in Paris for a year, studying privately with Jean-Pierre Rampal. His other flute teachers have included Alain Marion, Sandra Taylor, Lawrence Morgan, Philip Dunigan, Severino Gazzelloni, Julius Baker, Christian Lardé, and Arthur Lora. He has appeared with major orchestras around the world, and has played in recital with many of the greatest musicians of our time.

Mr. Wilson is also an orchestral conductor of growing reputation, and he is the founder and conductor of Solisti New York Orchestra, as well as the Artistic Director of Oklahoma's OK MOZART International Festival. He has been guest conductor of many prestigious ensembles, including the Houston Symphony, Hallé Orchestra, Orchestra of St. Luke's, Los Angeles Chamber Orchestra, Saint Paul Chamber Orchestra, and the Metropolitan Opera. His conducting teachers have included Roger Nierenberg, James Dixon, Otto-Werner Mueller, and Leonard Bernstein.

He has recorded 30 albums as both flutist and conductor, and was three times nominated for the "Grammy" award. Other awards he has received include the Alabama Prize from the New York Times Foundation, and the Award of Merit in Gold, from the Republic of Austria. He is an Artist Member of the Chamber Music Society of Lincoln Center, and is Professor of Flute at Yale University, as well as Music Director of the orchestra at the Idyllwild Arts Academy , and Artistic Director of Oklahoma's OK MOZART International Festival . He recently taught a week long master class at the Paris Conservatory, as well as classes at International Summer Academy in Nice, and at The Juilliard School in New York City. Ransom has recently formed a new CD label: IMAGE RECORDINGS . He acts as Producer and Director of Artists and Repertoire for the label, which has already won a major award for one of its recordings . In his own recording career, Ransom has been privileged to work with some of the finest recording producers in the world, and has done the most work with Patti Laursen. Her uniquely supportive production style is one that Mr. Wilson learned a great deal from, and emulates whenever possible in his own work as Producer.